There are plenty of website builders available in the market for your business. If you have a small business, and you want a platform for it, then you may be seeking a great website for sure. In this article, we will be talking about 10 such website builders that are convenient, cost-friendly, easy to use. It's up to you to decide which is best and suitable for your business.
We have done deep research for this list of website builders and came up with possibly the best 10 available in the market right now. All these builders are budget-friendly. We ran a creative survey on the people who want to have a website for their business and covered various dimensions of their requirements to set the parameters to create this list. We took the data from considering their preference for sales and marketing features, price, creative control, etc to bring to you these 10 websites. So without further ado, let's get you the 10 Best E-commerce Website Builders For Small Businesses.
Best website builders for Small Businesses
When it comes to creating a website, financial capability is a huge factor for small business owners because most of them don't have a big financier. You might want to take into account these website builders if you are a small business holder. Fortunately, all of these websites offer a free trial and some free services, so there is no need to worry about credit card commitments at the beginning. After reading this article, you will have a clear idea about which platform is perfect for your business needs and going to make interactions easy for your consumers.
Best all-in-one website builder for small-scale businesses.
Pricing: $13 to $500 per month
Wix currently looks like the undisputed heavyweight champion among the website builders. They have the number of users supremacy by a huge amount. They offer more than 300 templates that are free, and beautiful. Which website builder will ever be able to compete with them
They provide a huge choice of designs for businesses, artists, restaurants, tourism, portfolio, blogs and forums, health and wellness, fashion and beauty, community and education, and whatnot. To give an idea of how many niches or industries they cover, they have dedicated templates for categories like Locksmith business, and Dog daycare center too. So there are chances for you to find the template for your project among their countless categories and subcategories. And if it's still not fitting your needs, there is an option to add to any design.
For free of cost, you can edit and publish your entire website with ad support and all available features. Paid plans will add a more professional look to the website, and let you choose the domain you want. There are plans with added storage and bandwidth. Unlimited bandwidth starts from 17$ per month which is to be paid annually.
All websites don't need the same features, you can add what you need from hundreds of interesting apps from the Wix App Market. For instance, you can add an Online booking feature or integrate a live chat function to your website to provide personal assistance.
Wix websites aren't meant for big businesses, the navigation depth is too limited and you can have only two levels in categories and sub-categories. They are limited with live support, there is a huge amount of automated support but you might need to wait for responses from the Wix helpline if you run into any problem.
| | |
| --- | --- |
| Wix Pros | Wix Cons |
| Not a great amount of technical skill is needed to create | Only meant for small or medium-sized businesses |
| Since the basic version is free, so try all the features before you pay | Lack of help and live support |
---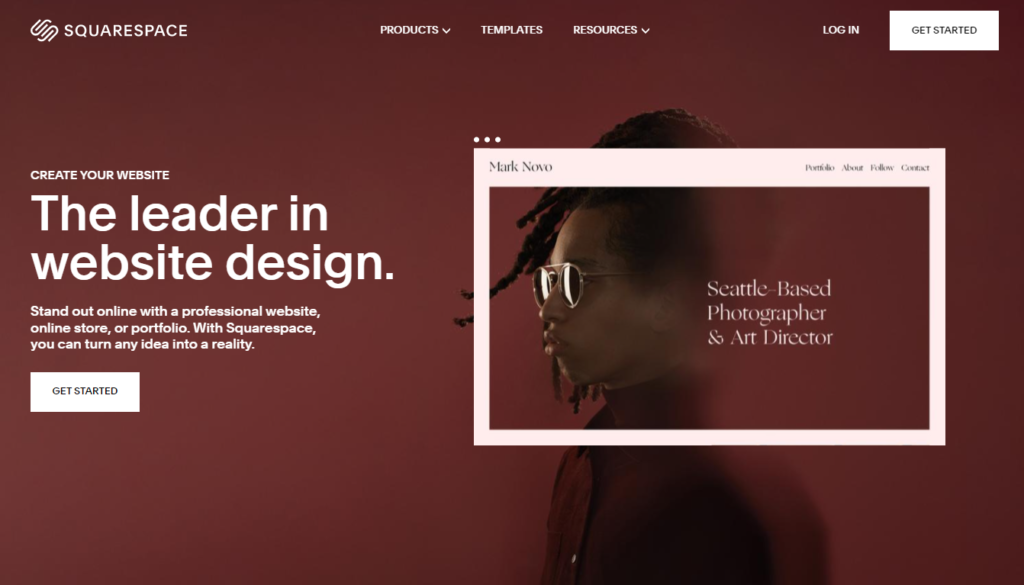 No.1 for creative control
Pricing: $12 to $40 per month
Squarespace is a perceptive, curated, and beautiful website creator, which also has dynamic features. Among all the website builders they have the best blogging, podcasting, scheduling, and galleries. It was rated among the best for the clean, modern, unique templates and page editor.
Squarespace editor is called the best editor for a reason, because it has a unique thoughtfulness to every corner of the editor, for example, any website that uses a thumbnail will simply crop the given image automatically, but here you will be prompted a focal point editor to pan the image for the part of the image to be shown. Another example is, letting users incorporate a customizable section that you can change from time to time. This comes in handy for businesses that are unlikely to be the same for all time, a restaurant, or a bakery price menu for instance.
Squarespace is very consistent when it comes to flexibility and features. It is probably the only website that can really compete with WordPress in terms of blogging, with support for multiple contributors and form builders. It has a new unconventional donation incorporation system that will generate a different receipt rather than producing a normal checkout type bill.
With a yearly payment system, you need to pay $144 for a domain name and no advertisements. However, if you want to use Squarespace for e-commerce without paying an additional transaction fee you need to choose the Basic Commerce or Advanced commerce plan for the price of $26 and $40 monthly.
| | |
| --- | --- |
| Squarespace Pros | Squarespace Cons |
| Best themes, templates, great look, added social media accessibility so that you can promote anywhere. | With no access to the App Market or 3rd party apps, you need to work with Squarespace's built-in features and no extras. |
| Visually easy-to-use interfaces, no need to edit codes. | Limited payment system, content versioning unavailable. |
---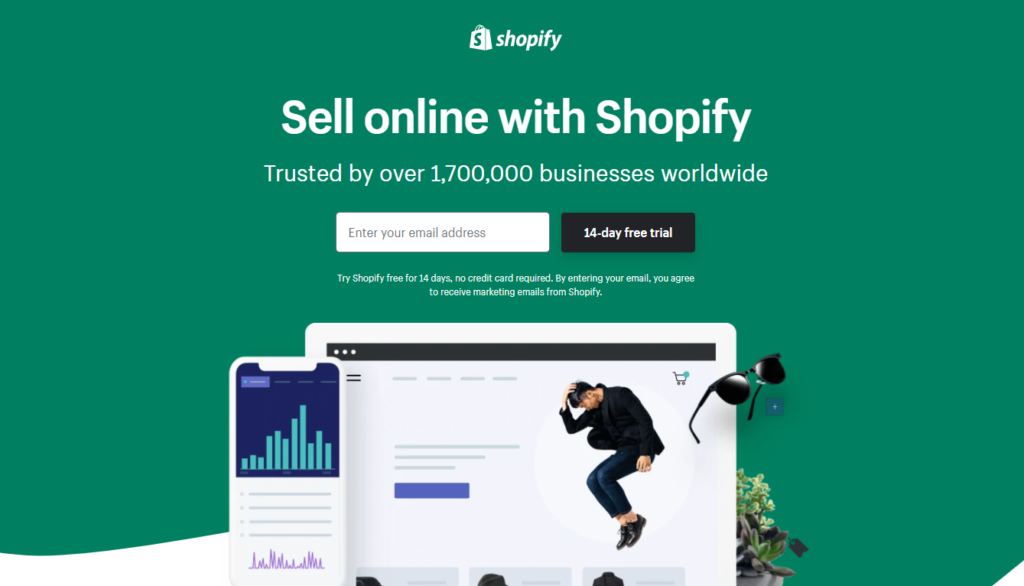 Best for sales related traits
Pricing: $29 to $2000 per month.
The best thing about Shopify is even if you are not a technical person, having no knowledge of coding languages, you can start creating your website without any hassle. There are 60 paid themes that cost between $140 to $180 and 10 free themes for your website, not to mention the free themes are also incredibly good to look and browse through.
Shopify has a 14-day free trial, but you can extend it to 30 days by contacting them. You can try out all the features, like trying the paid themes during the trial period and don't need to give any credit card details at all. Another great thing about Shopify is there is a built-in drop-shipping feature, so for those who started a new business has lacked storage this feature will benefit them.
Shopify is hosted by Shopify themselves, so you don't need an external hosting provider with decent server response time and uptime. Their two-factor authentication is monitored by Shopify for unauthorized access. Other great features include customizable page titles, sitemaps, redirects which makes it SEO friendly. Their customer care services are incredibly good with 24×7 live chat, email, and even call assistance which puts Shopify ahead in the race.
However, with Shopify, the pricing isn't too satisfying, because the tools they offer are way too advanced and if you are on a tight budget and running a small business you might want to reconsider going for Shopify.
| | |
| --- | --- |
| Shopify Pros | Shopify Cons |
| Great speed, server response time makes it a perfect choice for high-traffic businesses. | If you choose another gateway other than those listed on the website, you need to pay a hefty transaction fee. |
| Easy to work on. | No free schemes are available, eventually, you need to pay. |
| Social media accessibility, large community | – |
---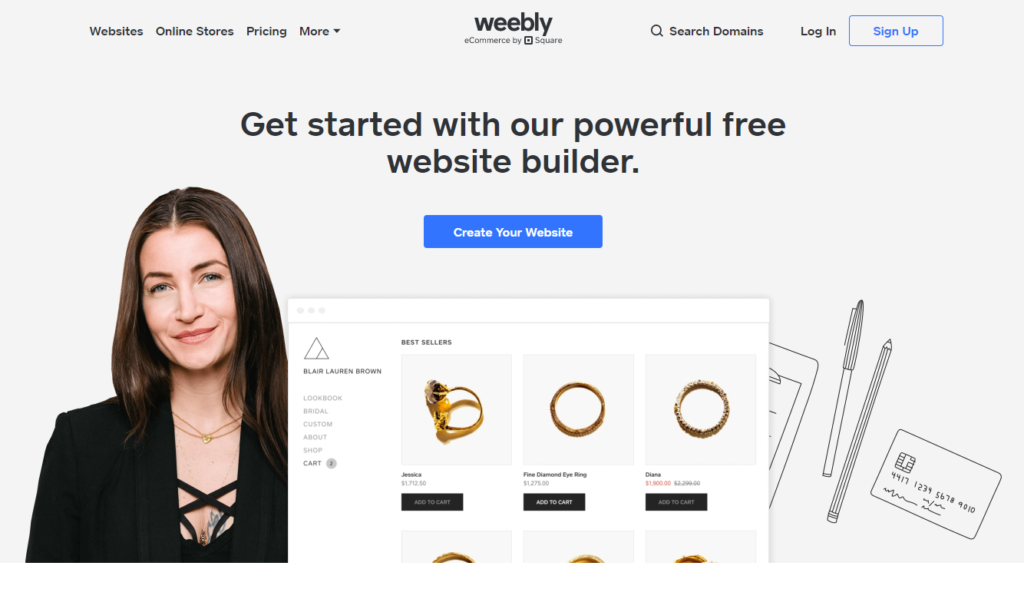 Simple, budget-friendly, balanced

Pricing: $6 to $25
Weebly is very budget-friendly. Compared to their competitors Weebly is probably not quite as fancy in terms of marketing. The core focus has always been the quality of their product and nothing else which has made Weebly one of the most successful site builders out there. Powering more than 40 million websites worldwide, the question remains is it the right choice for your project?
Weebly is a very simple yet balanced e-commerce website builder. It remains easy to use, simple and clean even if new features have been added. A great technique Weebly uses is spotlighting while editing, what it does is, lose focus or darken other regions of the page while working on a particular edit section. The App center lets you add more unusual elements and features to your Weebly website. For example, an app named Multilingual will let users swap between the page with other languages. There are hundreds of these apps present in the App center for you to choose from as per your need.
With themes, you are not stuck with any particular theme, if sometime down the road, you want to try out another one you can simply switch. Video backgrounds whether it's your own video or one from Weebly's gallery are going to make it even more fantastic.
For companies with more than one site editor, it's great that you can create different logins access levels. There is even a password-protected membership area that provides exclusive content to members only. Square took over Weebly and greatly improved the sales features, and in more reason why you might wanna go for Weebly is, its cheapest 6$ monthly plan which will wow you if you are on a tight budget.
| | |
| --- | --- |
| Weebly Pros | Weebly Cons |
| Unmatched ease of use, beginner-friendly | Cross channel limitation |
| Responsive Themes | Not customizable checkout page |
| App Center & Team Management, Membership Areas | – |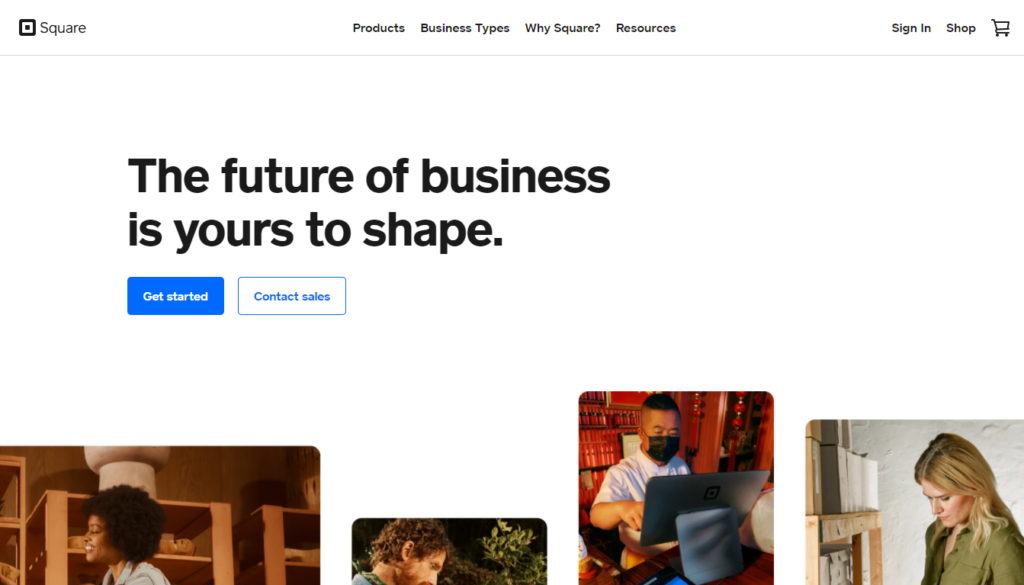 Cost, quality, sustainability
Pricing: $0 to $72 per month
Square is a giant tech company that took over Weebly in 2018. The new platform now has both the features of Weeble's building platform and Square's attributes. You have to sign up through Square, but you work with the same platform as Weebly.
What makes Square different from Weebly is it comes with some added features that Weebly doesn't offer, such as monitoring customer behavior and creating unconventional account statements, etc. But it also has the same limitation Weebly has, that is minimal customization. Square uses AI to produce the very optimal website of your need, similar to GoDaddy.
Because of these extended features, we recommend Square to those who want value for money. It is also great for those who are new to website creation because it's very easy to use with great user satisfaction.
| | |
| --- | --- |
| Square Pros | Square Cons |
| The free plan offers to use Square services without signing up and payment | It is similarly restricted as Weebly when it comes to in-depth customization. |
| Artificial Intelligence makes the building task very simple yet optimal and beautiful. | – |
---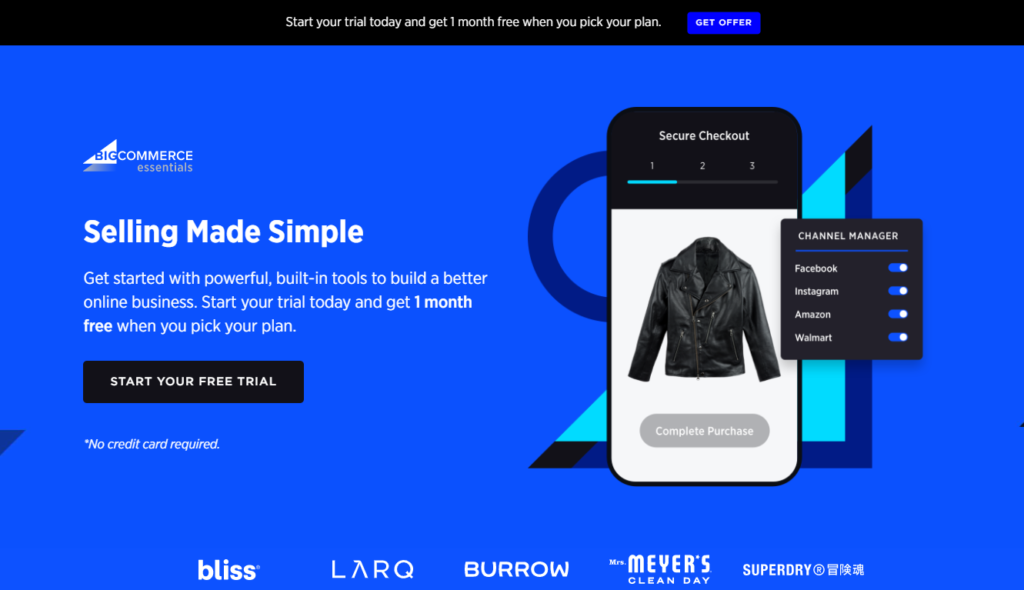 More choice for customers
Pricing: $29.95 to $299.95 per month
BigCommerce is comparable to other e-commerce website builders like Wix, Squarespace, Weebly, etc, but what separates BigCommerce from others are they charge no transaction fee for any type of payment gateway.
BigCommerce has over 25000 live sites all over the world, and they have been slowly but progressively adding new features. You can try BigCommerce free for 15 days and further extendable for another 7 days if wished. If you wish to choose BigCommerce, you need to select among 3 plans starting from $29.95 per month. BigCommerce offers you to sell across multiple channels, like Amazon, Facebook, Pinterest, eBay, etc which further extends the reach of your store.
A big drawback that BigCommerce has is that like Shopify, it has some extra tools and features that can boost a bigger business to grow at a rapid pace, but if you are a small business owner you will find that you are paying for some features that you don't even need. This obstruction alone limits BigCommerce to get value for money, but it's a great score for sales features, and integrated SEO tools overshadow the lack of value for money.
| | |
| --- | --- |
| BigCommerce Pros | BigCommerce Cons |
| Real-time shipping quotes, highly scalable platform | Selling limits $50,000 for the basic plan |
| Lots of multi-channel integrations | You will need more time to set up your online business store ready because it's not very beginner-friendly |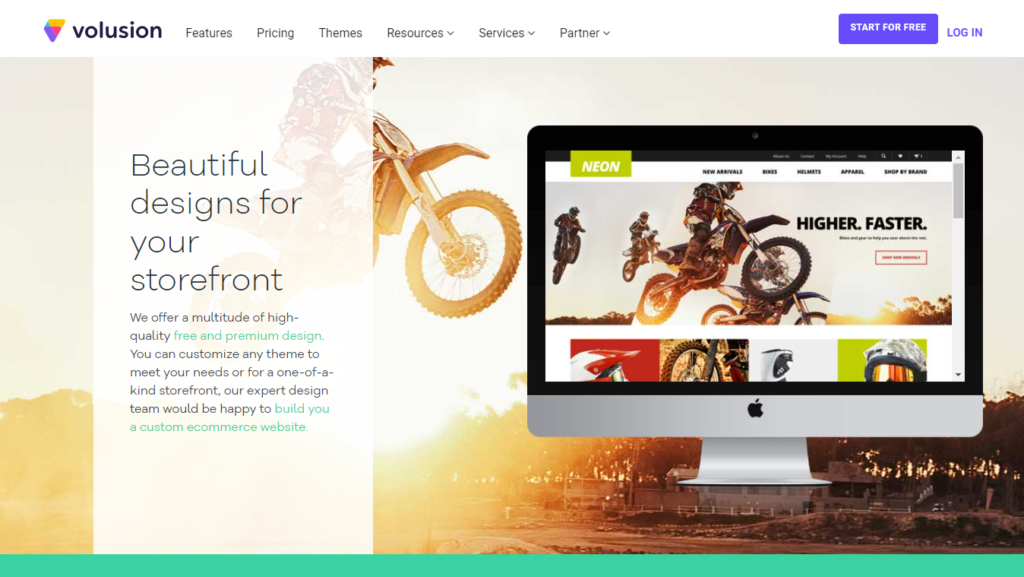 Best resources for growth
Pricing: $29 to $299
Volution is one of the first cloud-hosted e-commerce platforms, started in 1999, and helping over 30,000 store owners since. It will not disappoint a business person who likes to keep track of the stats and progress of his site. Volution is equipped with data tools to measure which part of your website is doing well and which part is lagging behind and lets you optimize that particular area for improved performance.
Blogging plays a significant part in the growth of any online business marketplace and a big drawback of Volution is there are no blogging tools available with this builder. However, the area it scored well is the sales tools and like Shopify, this has also become the hurdle for getting value for money.
If you decide to start your website with Volution then you can start with the lowest price plan of $29 per month or can pay more for extended features and tools, all the way up to $299.
| | |
| --- | --- |
| Volusion Pros | Volusion Cons |
| The best pro should be its insight and stats of the page, gives chance to learn the problem in your page and rectify it | Difficult for starters, you'll need time to set up your online store |
| Almost accepts all the payment gateways | Absence of features like niche, blogging |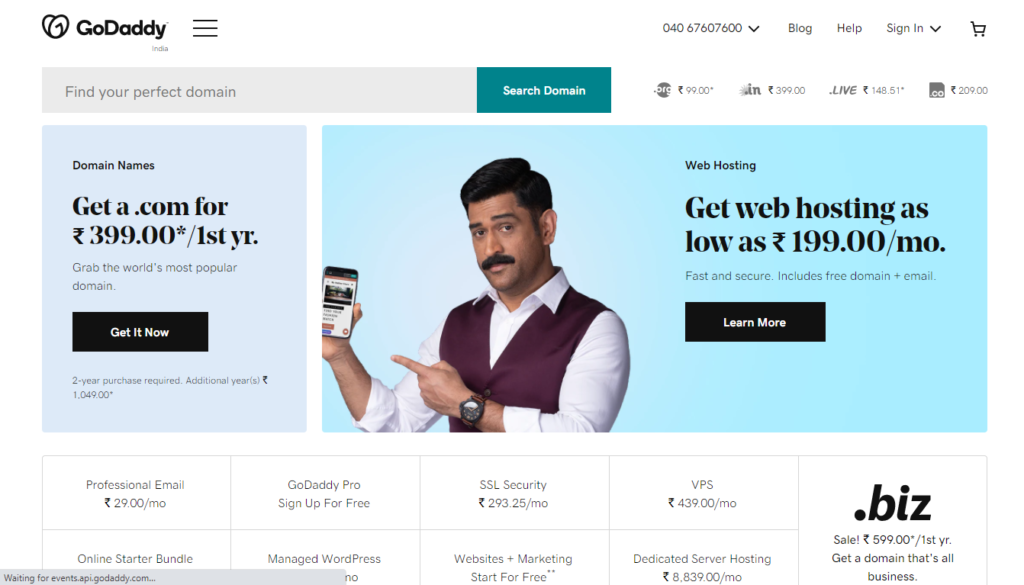 Easiest of all
Pricing: $19.99 per month
GoDaddy works with Artificial Designing Intelligence that helps you set up your website very fast. It also requires a minimal amount of technical knowledge to create your e-commerce website, so even though you have hard time building websites, GoDaddy promises to walk you through the easiest steps to create the website you dream about.
So, what makes GoDaddy a prime choice The answer is manifold, firstly they provide all of them together, web hosting, domain, and security so that you don't need to invest yourself into other hassles. Secondly, they offer great speed and uptime and you need a hi-speed website if you are starting your marketplace online. Thirdly, GoDaddy provides decent security for your website. Fourthly, they provide very satisfactory customer service, no matter what time of the day you call the customer service, they promise to fix your problem. You can literally call 24×7 for any kind of support, unlike any other websites that might give you limited support hours.
So with GoDaddy can have your e-commerce website ready in a few minutes, but the only downside to this is you have less creative control over your website.
| | |
| --- | --- |
| GoDaddy Pros | GoDaddy Cons |
| Fastest and easiest to build, with ADI you can make it less complex in terms of looks | Some of the features don't have satisfactory quality, neither the features themselves are great |
| They offer great security, speed, support, and hassle-free building | Restricted creative control |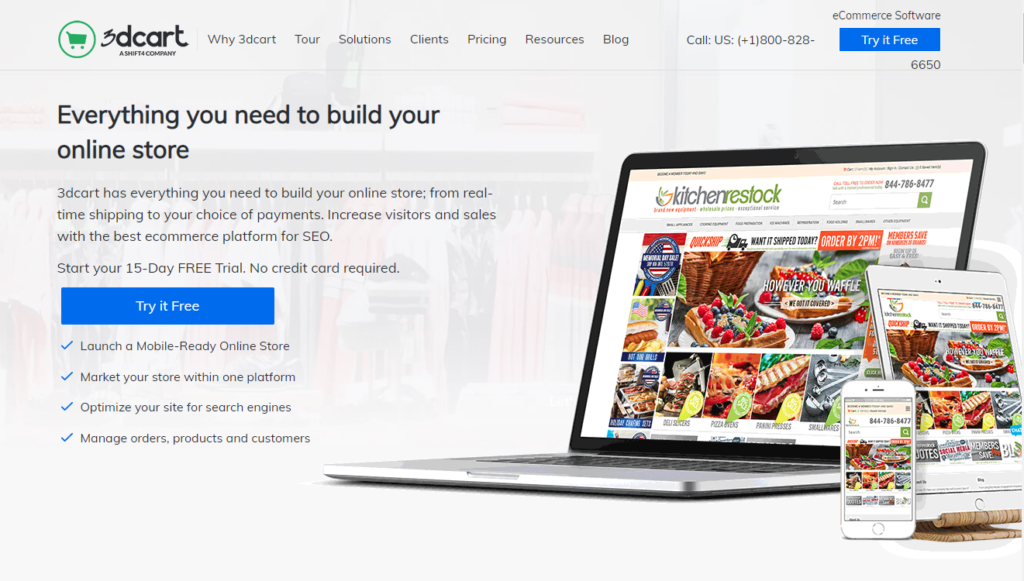 Complicated for the price
Pricing: $19 to $229 monthly
If you were to compare 3dcart to other website building platforms, it is completely opposite to Squarespace, offering powerful tools and features and while paying less attention to the looks and designs. 3dcart will not let you create your business marketplace on the go, because there is no mobile app available for it. It offers web hosting, so you don't have to install anything for that feature. 3dcart is equipped with around 200+ built-in sales features and 50+ themes which makes it pretty easy to find all you need in the same place.
3dcart doesn't charge any transaction fee, so if you starting a new business and have a pretty tight budget, it should be a good choice for you. And it is one of those few website builders that won't ask for your credit card details during the trial period.
However, 3dcart was unable to bring out some good ratings when tested. People who used it for small business websites were not very satisfied and denied to recommend it any further. 3dcart's starting price is $19 per month, which can be a piece of good news for those who want to spend less for a great website building experience.
| | |
| --- | --- |
| 3dCart Pros | 3dCart Cons |
| You have access to change themes anytime | You will not have a mobile app, so on the go store running is not possible |
| Outstanding built-in features. With an inventory system. Keeping an eye on your stock made easier | Not very good customer score |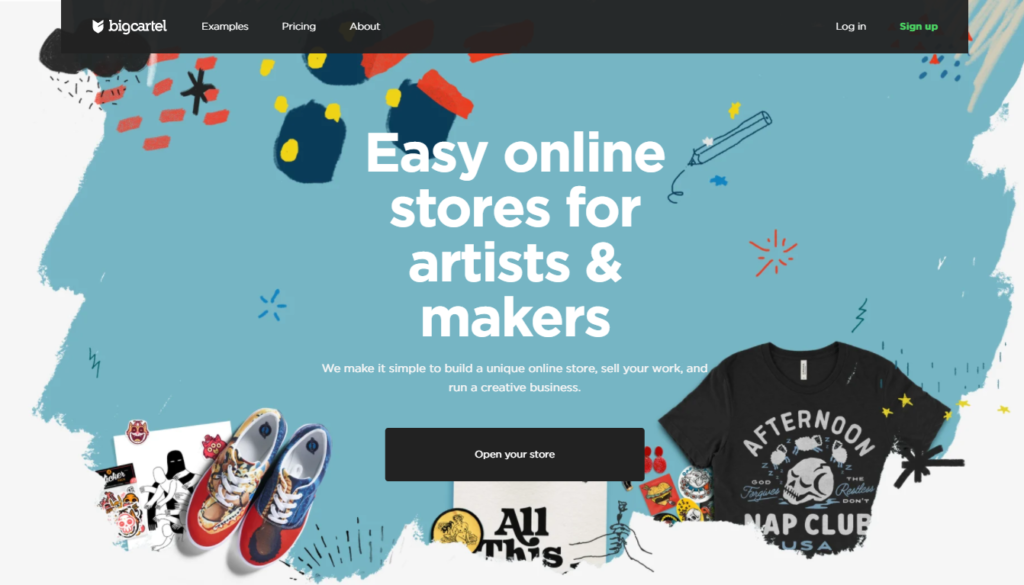 Great price, but limited in options
Pricing: $0 to $29.99
BigCartel is probably the only website where it is possible to create, publish, and start selling products without even paying a single penny. Yes, you heard it right, where all the other companies charge you whether it is before or after the trial period, this is unbelievable that you can really start your marketplace for completely free. But it's a very basic e-commerce website builder and you might find it lacks enrichment in most of the categories.
It comes with free customizable themes but they are very much limited in numbers. The free plan is also very limited as it won't offer you google analytics, bulk editing, inventory tracking, and you can only keep one single image per product. If you choose to pay, then pay plans to start at $9.99 with added features like product option group, theme code editing, bulk editing, etc, and choose an even higher price plan of $29.99 with even more features.
| | |
| --- | --- |
| BigCartel Pros | BigCartel Cons |
| Lets you run your website for free | Very basic themes, designs, and features |
| Great for small businesses | You need to have technical and coding knowledge, otherwise, it might seem difficult to manage |
These are the 10 best website builders which will help you set up your small business platform to get started. But as your market gets bigger, which we hope to happen very soon, you should really consider switching to a bigger platform, BigCommerce for example, which is perfect for faster-growing businesses. For any small business, we recommend our top 3 picks among these, which are:
Wix You will get the most value for money as you will have complete creative freedom.
Squarespace You will probably have the best-looking website among online stores.
Shopify With most powerful tools available here for you, you might not even need to upgrade even if your business grows rapid fast.
We do not recommend going for 3dcart or BigCartel unless you have some very specific requirements. Because these two eCommerce website builder platforms are efficient for very small scale businesses and one might find it very restrictive in terms of features and resources when you start using it. For starting we recommend you try those other website builders for your small online business and remember every website builder mentioned above has either a free plan or free trial so you have the opportunity to start the foundation of your mega business without investing any money at all. So go ahead, try these websites, we wish you all the very best for your first eCommerce business website.
Also Read: Alternatives to Buzzoid, Top 100 SMM Sites, Best Sites to buy Twitter Views in India