Hello visitors, in this article we will discuss the tips and tricks to gain more followers on LinkedIn. LinkedIn is a professional social networking site that allows users to connect, collaborate, and learn. It's like Facebook, except for professional life. Despite the fact that LinkedIn is one of the most popular social media sites, many people have no idea what to do with it or how to benefit from it. LinkedIn is for someone who is serious about their professional life and looking for new ways to improve their careers and connect with other professionals, whether you're a corporate director at a large corporation, a business owner owning a small retail store, or just a first-year college student looking for their first job since graduation.
So you have got a LinkedIn company page and you have been posting to it, or you just started a company page and you are starting to share content. So what are the best ways to increase your engagement and followers? Let's look at the main ways to get more followers for your LinkedIn company page.
(Tip#1 for more LinkedIn Followers) LinkedIn is not Facebook
Don't make this about Facebook as much as Facebook-type posts. You should not only put an advertisement on LinkedIn saying 'We have got a job opening' because that's what most of the companies are doing. Typically that's not going to work out unless you have got thousands and thousands of followers already on your company page. So better keep posts about 5-6 times a week and be consistent about it.
(Tip#2 for more LinkedIn Followers) Add a Follow button
People would find it easier to follow you on LinkedIn if you have a LinkedIn "Follow" button on your website and blog. Add this follow button to the footer of your website, and it will repeat through all of your sites. It is not recommended to have a script at the top of the page because it will slow down the loading process. Adding this button will keep your visitor notified that they have an option to follow your page on LinkedIn for more work-related updates from you.
(Tip#3 for more LinkedIn Followers) Tell your employees to join Linkedin
Encourage your employees to build and complete LinkedIn profiles; if they include your company name, they can become followers of your Company Page automatically. Encourage them to build and complete LinkedIn profiles, as they will automatically become followers of your Company Page once they have your company name. This will assist in increasing the amount of traffic to your website.
(Tip#4 for more LinkedIn Followers) Promote your LinkedIn page on other Social media platforms
If you have followers on other platforms then you might already be considering they are following you on all the platforms including LinkedIn, but this isn't always true. Let's say you have a large number of subscribers on YouTube but it's considerably short when it comes to LinkedIn. So you need to drive your followers to all the platforms you are present on, and the secret is, your followers actually love to follow you on all the platforms if you produce sensible content.
(Tip#5 for more LinkedIn Followers) Participate in LinkedIn groups
Joining LinkedIn groups is a great way to draw attention to your Company Page and gain more followers. You may start your own discussions or participate in those started by other members. Joining LinkedIn groups is a perfect way to get more people to notice your Company Page and follow it. You can start your own discussions or join in on those that other members have begun.
(Tip#6 for more LinkedIn Followers) Add Images to your page posts
It is still surprising how many people don't do it even if it is such a simple thing. Most people fail to realize it is not about top-notch equipment or expensive DSLR, it is about getting the lighting and focus right. But don't forget to develop your photography skill, by going through a photography course or learning what professionals are doing differently than amateurs. A great-looking photograph is the richest source of a great number of followers.
(Tip#7 for more LinkedIn Followers) Promote your LinkedIn page outside
Have a connection to your page in company correspondence such as emails, newsletters, and other documents. Invite others to join your pages, such as clients and main audiences. Having more 'Follow on LinkedIn' requests in newsletters and emails will definitely bring more targeted traffic to your page.
(Tip#8 for more LinkedIn Followers) Engage with Connections for Followers
Always interact with your followers; make time to like and comment on their posts. It's pointless to try to gain more followers if you aren't interacting with your current followers and connections. Start by liking and commenting on other people's posts and sharing them on a regular basis.
(Tip#9 for more LinkedIn Followers) Notice the LinkedIn analytics and recreate posts that did well
You need to have some knowledge and practice to work on these above tactics and mastering them will take some time. But you should always analyze your posts to see which kinds of posts did the best.
What you can do is, at the end of the month or week watch how your posts performed. You can write down the data if you like, try to catch a pattern that is present in all the posts that did comparatively well. Then recreate those kinds of posts or understand the essence of those posts, for which reason it did good, then recreate it.
(Tip#10 for more LinkedIn Followers) Add videos from Youtube to your posts
To your posts do add videos from Youtube about your company or your products. LinkedIn claims that followers who associate with such posts take "twice as many amplification acts (likes, shares, and comments)" as those who do not.
(Tip#11 for more LinkedIn Followers) Add the full Organization name to LinkedIn
Google is the most popular search engine and when people use Google Search or on-site search to find your website, this will make it easier for them to find it. If you make it easier for the targeted audiences to follow you, it will definitely bring more organic traffic to your LinkedIn page.
(Tip#12 for more LinkedIn Followers) Don't forget to share company news on LinkedIn
Most interested audiences will love to hear what is happening in the company and a high portion of LinkedIn members are concerned about company news, according to LinkedIn. So keeping this in mind do share company news regularly to your LinkedIn page.
(Tip#13 for more LinkedIn Followers) Post at least 5 times a week
How often do you post on LinkedIn? Is it once a day, twice a day, or once a week? Take some time to analyze the time you are posting on the platform, it affects positively or negatively on your posts. When you become consistent about the timing of your posts on LinkedIn you will more likely find your target audience and more potential followers.
(Tip#14 for more LinkedIn Followers) Quality over quantity
This one may seem obvious but it is an important one. It used to be on LinkedIn where if you keep posting more and more information, eventually your followers, your fans, will like your content. Now LinkedIn has updated its algorithm in which if you post content and your fans barely engage, the next time you post content, they will show it to a lot fewer people. In other words, you need to post more quality information to bring up the number of fans that continually engage with your content so that way when you keep posting more people are going to see your content.
(Tip#15 for more LinkedIn Followers) Tell your employees to interact
Having an active conversation going on the posts will definitely make your page far more engaging. So ask your employees to interact with your page contents which will make the visitors of your company page take an interest in the conversation and eventually follow your page.
(Tip#16 for more LinkedIn Followers) Engage with other popular LinkedIn Companies
Engage with other brands and companies within your niche, and listen to them. Look at their pages. See what people are liking there. Notice what their audience eats up. Catch what their audience hates. That should give you some ideas. You also want to chime in on their page because that will also help get people back to your page, which should get you more followers as well. You also want to engage with the influencers on these pages, because it creates a higher chance that they'll come to your page and engage as well.
(Tip#17 for more LinkedIn Followers) Post shareable ideas or news
Presuming you're not beginning from zero followers because only those who create a new LinkedIn profile or a new business page have no followers of course. One of the first things you can do is take advantage of those users who follow the page already. You can use them to share your page or posts The best way to do that is by sharing extremely shareable content. Have you come up with some new innovative research? Can you create a video that can go viral easily? Certain sorts of stuff will make your content stand out.
(Tip#18 for more LinkedIn Followers) Timing
According to research made on millions of LinkedIn users, on Sundays and Saturdays LinkedIn posts get up to 32% better engagements than the rest of the week. Also,9 AM, 1 PM, and 3 PM are better times to post than other times. You also need to keep your posting schedule consistent. Keep on with your strategy. Do not post for a month or so on a regular basis, and then stop doing it.
(Tip#19 for more LinkedIn Followers) Fill the company bio completely
LinkedIn prefers those company pages to show up in the on-site searches who fill their company bio completely and having your company bio filled will positively impact the visitor take more interest in your company.
(Tip#20 for more LinkedIn Followers) Add logo and attractive cover photo
Are you a popular brand with a logo of its own? Adding a logo to your company page and an attractive cover photo will attract more visitors and more followers eventually.
Tip#21 Add links to posts
This is an important toolkit that most companies fail to utilize, whenever you post on LinkedIn add links at the end of the post, tell the audience of the post to join you on LinkedIn for company-related updates. People will love to follow you on LinkedIn if your posts are interesting enough.
Tip#22 Add multiple admins to your LinkedIn page
Having multiple administrators is a good idea. They will divide content development and other tasks for different goods and/or business lines. Encourage them to post interesting content on the page on a regular basis and to share it with their social media contacts.
Tip#23 Post what's trending
You got to be posting the most viral concepts. You can scroll through popular company profiles, see their post, see which types of content are getting the most views on their pages, and repost the exact type of concept on your page.
Tip#24 Keep posts precise
No one on social media will read massive blocks of text. They simply have a lot more to see from their friends and family. Long posts from brands and pages are not going to be at the top of their preference. Facebook is made in such a way that a person goes through multiple feeds per minute. So there is only an opportunity of a few seconds to catch the mind of the readers with sparkling content.
Various studies suggest that most posts that get a great number of likes are those which are hardly 10-20 words long. Long story short, you should always try to keep your post precise and short.
Tip#25 Start a followers advertisement campaign
Brands advertising on LinkedIn also set a goal of growing their pages. Use the Follower Ad format in a Dynamic Ad campaign. This approach can be used to acquire highly appropriate followers by using LinkedIn's powerful targeting capabilities.
Tip#26 Create showcase pages
A Showcase Page is a LinkedIn Page that is linked to the company's LinkedIn page that is used to promote a particular sub-brand, business unit, or initiative. When you create them, you're creating several points of discovery and entry for your main Page.
Tip#27 Keep track of your competitor page
In all facets of digital marketing, competitor research is crucial, and this is no exception. You should look at what others are doing on LinkedIn not to copy their strategies, but to recognize the gaps in the market and provide something that members won't find anywhere else.
Tip#28 Share Job-openings on your page
LinkedIn is after all a portal for job search, and people join LinkedIn to seek the companies that offer the best opportunities with work. Always share the job opening you have, also the perks they will get while working, this will keep the future employees of your company more informed about the job and attract more potential audience and followers.
Tip#29 Add more video contents
So if you are not posting a lot of videos right now, if you have just mainly pictures and texts on your LinkedIn page, most likely your reach will start to go down. If you want to increase your reach organically you need to post as many videos as you can on a weekly basis. Videos tend to do a lot better when it comes to any platform, and they will reach more people more of your followers on your page. But you simply cannot upload any type of video in hope that it will reach a lot of people, what you want to do is you want to make sure that your videos have these 2 specific components: #1 at least 3 minutes long video #2 Videos must have captions on.
Tip#30Purchasing followers
To run a reputed business page, it is necessary to have a decent number of page followers. But it is a hard task to get genuine LinkedIn followers for your posts or on the business page you have. Fortunately, there are several companies that are specialized in this part and can make this work easy for you. The bad news is just like you have to compete in business to stay ahead of your competitors, there are multiple vendors in the market to offer the Best Deal for you.
It is quite risky if you don't know if the place you're buying from is safe. To make the task easy for you, we tested the well-known websites that offer these services. We took our time to thoroughly analyze fetch the accurate result of the quality, consistency, and customer support provided by each company. We did the research for you and came up with the four websites that can be relied upon so that you don't need to spend any more time deciding which one to go with.
#1 SMMSumo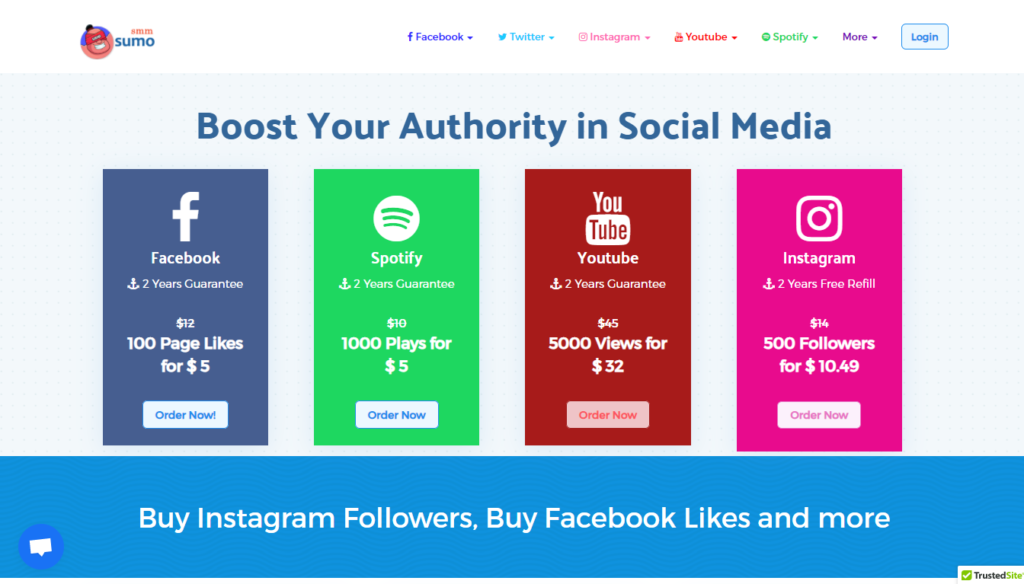 | | | | |
| --- | --- | --- | --- |
| Quality | Delivery | Retention | Safe |
| 10/10 | 10/10 | 10/10 | 10/10 |
SMM Sumo is an undisguised gem. Since it is one of the tops in the industry, we frankly fail to understand how this agency is not more famous. The interface is very simple and transparent. Every time, they deliver with absolute accuracy on their promises. Their unique selling proposition is their low selling price. SMMSumo is the leading engagement marketplace for businesses and influencers who are looking to increase their credibility and social proof of their LinkedIn profile.
This platform allows customers to buy 100% real and authentic LinkedIn followers. SMMSumo offers 2 Years of Free refill protection and a money-back guarantee for every purchase you make from their website, which most providers do not. We tested their LinkedIn Followers service by ordering 500 followers from them. They provided us with 530 Followers for the time span of 2 days, over-delivering us by 30 more followings which was much more to our satisfaction. Visit SMMSumo
#2 AlwaysViral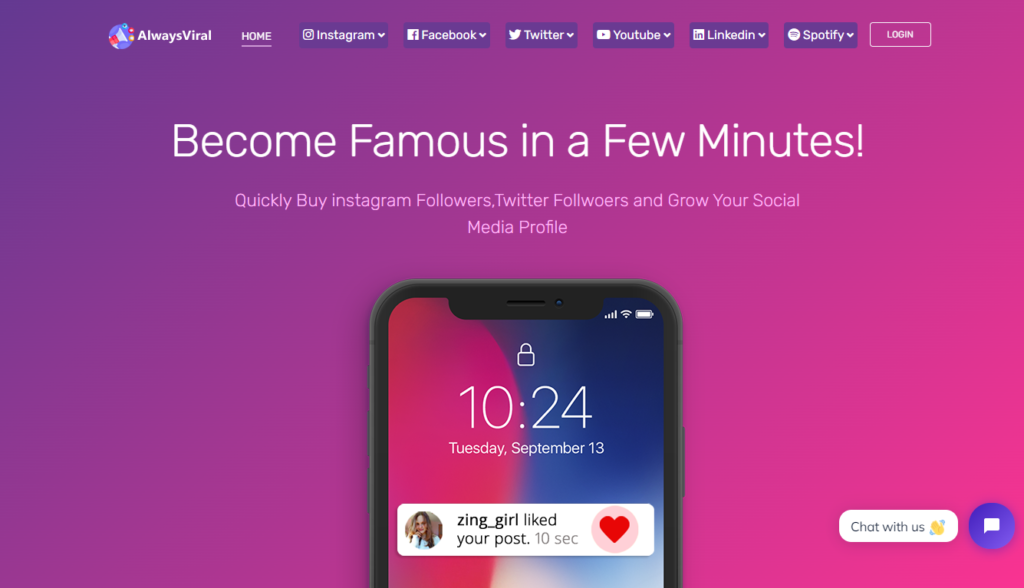 | | | | |
| --- | --- | --- | --- |
| Quality | Delivery | Retention | Safe |
| 10/10 | 9/10 | 9/10 | 10/10 |
AlwaysViral is situated in California, US, and provides promotional services for Facebook, Instagram, YouTube, Twitter, Spotify, and SoundCloud. They use a variety of white hat techniques to deliver organic engagement instead of paying for them. We checked their pricing with market prices, and they seem to be much cheaper. Always Viral understands that building a credible image for yourself in social media networks is the most important thing hence they strive to provide real engagement through 100% safe and organic methods.
We purchased 1000 LinkedIn followers to test them. They confirmed our package and started the delivery process after 20 hours and finished their delivery within 3 days, so their turnaround time is excellent. They even have a refill and refund policy, which means that if you don't receive your service, just contact them through 24×7 customer support, and they'll deliver your engagement with more than you ask for! So you get exactly what you pay for. Visit AlwaysViral
#3 FollowersZeal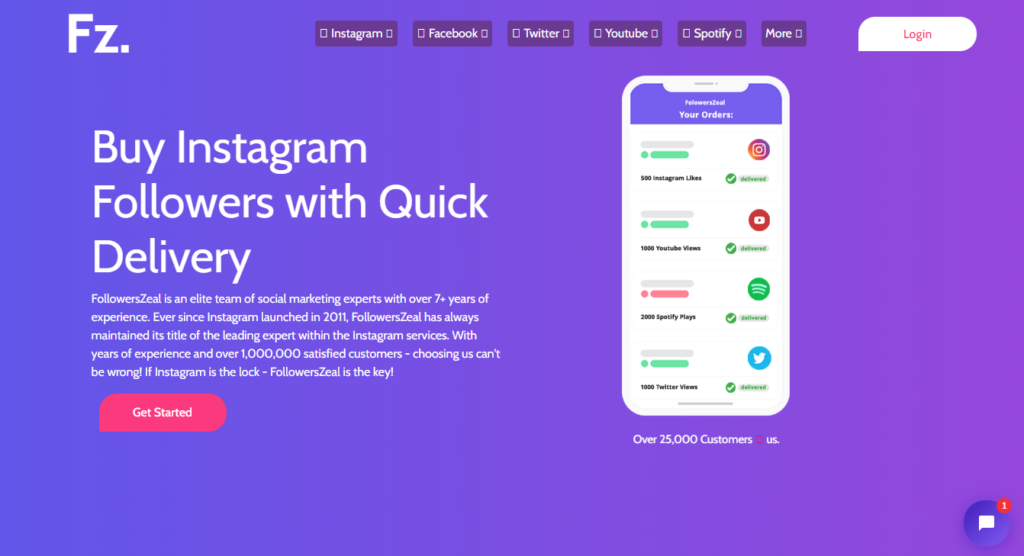 | | | | |
| --- | --- | --- | --- |
| Quality | Delivery | Retention | Safe |
| 9/10 | 10/10 | 9/10 | 10/10 |
FollowersZeal offers Social Media Marketing services for various popular platforms including Facebook, Instagram, Twitter, YouTube, Spotify, and LinkedIn. They deliver high-quality followers within 2-5 days depending on the package you choose. Similar to SMMSumo, FollowersZeal also offers 2 Year Free refill protection for any service you choose to buy. We purchased 1000 Followers at $40 from them which was similar to market pricing. We were impressed with them as they delivered us, 1063 Followers, after 3 days which was much more than we asked for! Our experts contacted their support for assistance, and they replied to us in a friendly way within a very short time. You can easily contact them via live chat, support ticket, and contact page. Highly Recommended. Visit FollowersZeal
#4 QQSumo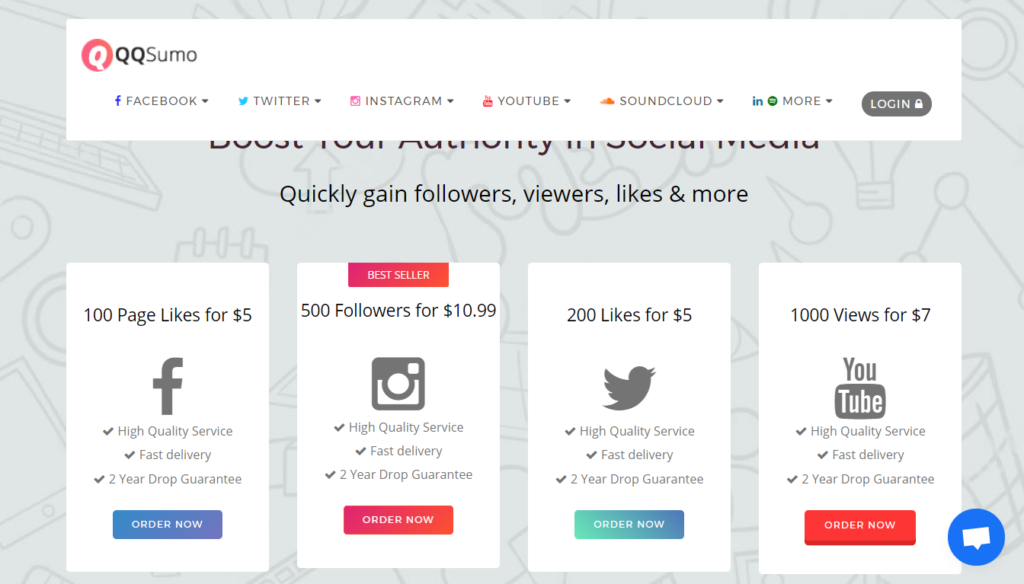 | | | | |
| --- | --- | --- | --- |
| Quality | Delivery | Retention | Safe |
| 8/10 | 9/10 | 9/10 | 10/10 |
QQSumo offers engagement services for almost all popular social media platforms. One can easily buy cheap LinkedIn Followers from QQSumo to build a credible image on the LinkedIn page. Other than LinkedIn, QQSumo also offers engagement services for Facebook, Instagram, Twitter, YouTube, and more. We tested their LinkedIn Followers service by ordering 1,000 Followers. The delivery time was very fast and is directly proportional to the number of purchased followers. You only need to share your LinkedIn username with them and you're all set! They accept payments via PayPal, major credit and debit cards, and Bitcoins. Visit QQSumo
Frequently Asked Questions
1. Can you buy Followers on LinkedIn?
Sure, It is completely safe to purchase LinkedIn Followers. But since there had been several scams in this industry it is advised to go through legitimate companies only. Do some research about the company before you invest in it, if the followers are real profiles there is absolutely no risk of getting a ban. We recommend SMMSumo, FollowersZeal, QQSumo, and ALwaysViral as the Best Place To Buy LinkedIn Followers as they stood up to our expectations pretty well.
2. What if the purchased followers are not real?
As long as you purchase from a legitimate provider of LinkedIn services you will get real followers from verified sources. However, you should be careful not to fall for scammer companies. You can easily find which providers are legitimate by going through thousands of reviews on the internet. Or you can go through our article for the 10 best sites for LinkedIn Followers.
3. How much does it cost to buy LinkedIn followers?
You can purchase real LinkedIn followers costing from $30 to $40 for every 1000 followers. However, this depends completely on the website you choose to buy plays from. Also, be aware that just because someone provides followers for cheap doesn't mean they are legit. Always do fair research on the website. Or you can read our reviews to find your ideal website to buy LinkedIn followers.
4. Will buying followers will get me banned?
No, you will not get banned from LinkedIn for buying followers. It is critical for your page to have a substantial amount of followers to build the branding. But you might start losing some followers if the provider or LinkedIn itself deletes them. Always choose quality providers like SMMSumo, FollowersZeal, or AlwaysViral as they always provide safety, security, retention warranty, and refill protection. So that you don't need to worry about anything else.