Instagram was created to facilitate social interaction. While liking and commenting on another user's post is a wonderful way of expressing some love, reposting their images, videos, and stories is the best method to enhance your interaction with several other followers. So in this article, we will cover everything from how to repost on Instagram, and what should be your strategies.
While posting on Facebook as well as Twitter is simple enough, doing it on Instagram requires a little more finesse. Of course, you'll need consent to share another creator's work, but there are a few abilities you'll need to understand how to repost on IG.
Reposting Instagram Videos and Images:
When you repost an already existing post, it is a wonderful approach to promote an Instagram user whose stuff you've been appreciating. Thankfully, Instagram has made it simple to share pictures and videos directly to your page or to the story feature without the need of having to install another app.
Steps to Reposting an Instagram Post:
Open the Instagram app from your phone.
Navigate your way to the post you want to repost.
Look for the paper plane icon (similar to the messaging icon) under the post.
Now select the option 'Add post to your story'.
Her you will have many options to edit or add various effects to the post.
Next step is to select where you want to repost this as a story, such as Your Story, Close Friends, or as DMs.
Send!
The easiest way to ensure that the stuff you upload to Instagram doesn't breach copyright protection, as said by Instagram's Community Standards, is to only post material that you've made yourself. If you do acquire authorization to repost, please be sure to give credit to the photo owner. It's not enough to just tag somebody in the posting.
Reposting a Story on Instagram:
The most popular reason for sharing anyone else's IG Story is because they were mentioned in it, which also is known as to mention sharing. You'll get an alert in your DMs whenever someone mentions you in a Story. An alert is delivered to your message requests whenever someone you aren't following mentions your name. There is currently no method to have your username removed from someone's Story or to stop them from citing you. You must report the story to IG if you want it removed.
When an individual mentions your profile in their Post, anyone following them sees it. As a result, those who follow him/her — or anybody else if their account visibility is set on public — can click on your name to access your profile. If your account is set to private, only verified fans will be allowed to see it.
You'll get an alert in your DM whenever someone mentions you in a Story. A notification is delivered to your inbox requests whenever someone you don't follow references your username. There is currently no method to have your username removed from someone's Story or to stop somebody from mentioning you. You must report the Story to IG if you want it removed.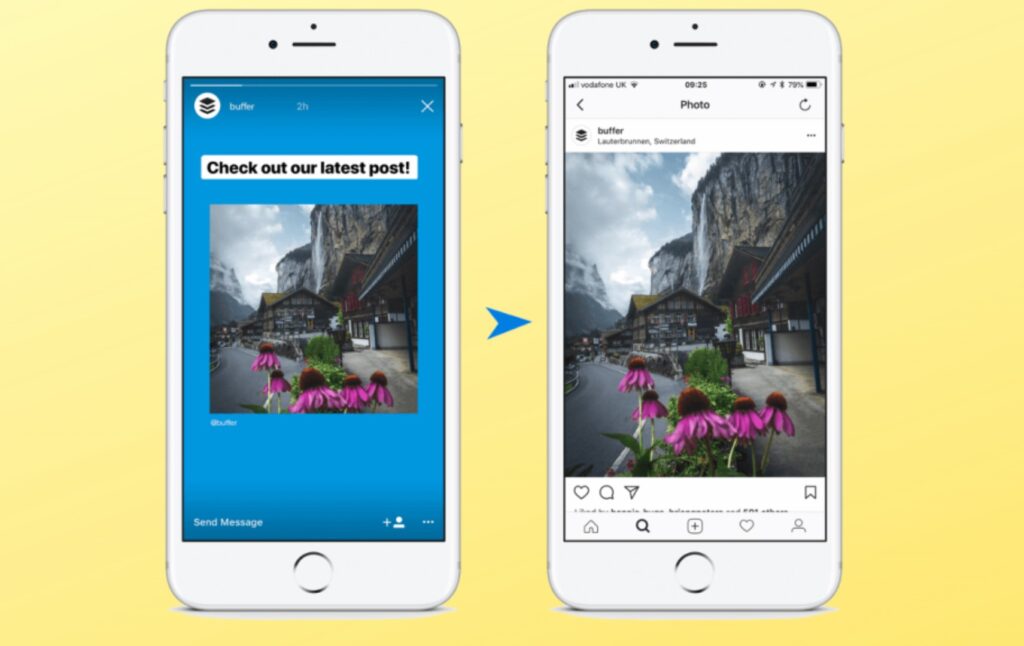 Steps to Reposting an Instagram Story:
First open the Instagram app and open your Direct Messages (Paper plane icon).
Find and open the message that says you have been tagged.
You will find the link that says 'Add this to your story'
Choose where you want to share the story.
Send.
How to repost using 3rd party apps?
Find and download the third party app. You can find plenty of Instagram reposting app with the help of Google.
The third party app should be on the same device as the Instagram app.
Open the Instagram app on the same device and navigate your way to the post you want to repost.
Click on the 3 dots icon on the top right side of the post.
Select 'Copy Link'.
Close the Instagram app and open the resharing app.
Here paste the link you copied and the post should pop up after that.
Make changes as per your need.
If its a post from someone else, you should add credits to the original content creator here.
When you are done making all the changes, click on 'Reshare'.
How to know who shared my story?
As you may be aware, if you are ever tagged in the story of someone's IG Story, you will get a short message informing you of the mention. If you're being mentioned in one of the user's source posts or one of your own posts that they're repeating, you'll get this notification.
You will not be told unless they actively tag you if anybody creates a screen capture of your Stories, saves it, and then reshare it. This is due to the fact that they have effectively built a new Story based on your content. You will not be notified if anybody sends your Stories in a private message.
– F.A.Q regarding Reposting on Instagram-
1. What is Reposting on Instagram?
Reposting someone else's material online with your own profile is known as reposting or regramming. This tool is akin to Facebook's sharing function or Twitter's Retweet function. Despite the fact that Instagram does not offer an official repost feature, there are other ways to repost material without breaking copyright rules.
Whenever you repost someone else's Instagram material from their newsfeed or stories to your own, it's known as reposting. Although Instagram does not presently have a tool that allows you to immediately repost someone else's material on your own profile, you can do so with other applications or by taking a snapshot and modifying it! However, you must first seek the permission of the original poster before reposting it on Instagram. To obtain permission, either make a comment under the post and expect a response or drop them a DM.
2. Should I get permission before reposting?
Before you use images of somebody else on Instagram, it's a good idea to get their permission; it's a legal requirement. The Instagram Community Guidelines serve as a helpful reminder. They clarify that uploading self-created items is the only guaranteed way to avoid breaching copyright regulations.
It is feasible to obtain permission to utilize another person's photographs. Obtaining something published from the picture's author or owner is the best bet. At the absolute least, it's crucial to do so in the original item's comments section and wait for a positive response. Do not use remarks or captions if they say no. It's as easy as that.
3. How often should I repost on Instagram?
There's a lot of disagreement about how frequently a company should post on Instagram, but experts say the middle ground would be once or twice reposts a day. If this is a component of the customer plan, however, consider using half of someone else's stuff and creating the other half of the original stuff. This is because putting community ideas out there can inspire others to not only develop new things but also to support and promote the brand.
4. Can I repost IG posts with captions?
Using third-party software is the simplest way to republish or repost IG posts with a caption that you have the authorization to publish. Repost on Instagram is the most renowned of them, enabling you to repost just with a few taps. Repost for Instagram inserts a little stamp to the bottom of the post, indicating who created it in the first place. Both on the picture and in the text, you should credit the creator. After you've published your content to Repost for Instagram, paste the source caption into your post.
5. Should you repost your own posts?
On popular social media platforms like Instagram, you can certainly repost your original photo or video. This is, in fact, a fantastic strategy to recycle your content. You just have to make sure you're not repeating the same picture or video far too many times as your followers got bored of it. You can utilize the aforementioned Repost for Instagram tool, which will mention yourself in the watermark. Another approach is to take a screenshot of your picture, crop it with a photo editing program, and then repost it.
There are a variety of ways to repost on Instagram, as we've already described. Try to figure out which one feels right for you with the least amount of time and effort. Also, discover Instagram best practices for posting with more clarity. If you have any questions or wish to add anything more pertinent to this topic, please leave a comment below. I'd be pleased to learn from you.
Also Read: Best Sites to buy Spotify Followers; Best Ecommerce Website Builders; Buzzoid Alternatives