Twitter is incredibly underutilized which means it's a great space for you to actually stand out and meet more community members or customers. Twitter, which began almost ten years ago, currently has a daily active user base of 100 million users and over 500 million daily tweets. Whether you love to tweet or avoid hashtags at all costs, you need to know the value Twitter brings to your inbound marketing initiatives and content distribution strategy. Keep in mind that your personae do not spend hours on Twitter and the lifespan of a tweet is only 16-18 minutes to gain traction from posting your content on Twitter makes sure you have done your persona research and know your target audience is killing their free time on Twitter. It is a great source of knowledge due to its incredible number of users.
For content marketers finding influencing content can be challenging, but searching on Twitter is an easy way to see who is dominating in your industry, what they are sharing, and who they are engaging with. All of these data can help your marketing initiatives and campaigns. In this article, we will be talking about the 20 most effective ways to gain your first 5000 followers fast.
1. Building your own identity:
It is incredibly important that you don't neglect the importance of building your own recognition or identity. The most Twitter creator makes the mistake of 'retweeting' what's trending in the world right now. They spend countless months only retweeting other famous person's posts rather than creating a tweet of his or her own. Most of not so famous creators don't have a clear 'Bio' section or great photographs that define that person's interest. So it is highly encouraged that you do redirect that time to create a niche for yourself that clearly defines who you are to let other people know of your interests and follow you.
2. Know your Audience:
Knowing your audience is very much important but what is the best way to know your audience? Like I already mentioned some of the creators really take their time to Retweet and circulate tweets by popular persons randomly thinking this will help them grow their followers. Don't just tweet for everyone you see, pick a niche you really care about, and really deliver for those people very well. Make sure your bio profile banner and profile picture represent this audience really well. You want someone in that audience to come into your Twitter and say "This person can help me".
3. Use relevant @ (ats)
The role of @s is very much impactful to show what are you working with or shape the definition of you. If possible build some authority by using relative @s in your bio section to show people a little bit more about what you do even if it's just @twitchaffiliate or @youtubepartner it will help you stand out from the crowd.
4. Curate your Feed
The most important part of the path to grab more followers for your Twitter while building your own identity on Twitter is curating a feed. When someone new comes to your Twitter and looks through all your profile, you want them to get a good sense of who you are based on your tweets. These means don't just go on retweeting other people's tweets, rather have a good ratio of retweets to creation tweets. Usually, it is much impactful if you maintain a ratio of about 3 to 1 meaning 3 tweets from yourself and one tweet from someone else.
5. Don't automate everything
I can't tell you how many business owners or content creators I see put very little effort into actually responding or creating unique information to put out into the Twitter world. So many Twitter creators are only regurgitating quotes that you have probably heard 100 times. Yes, these contents have a little impact on the audience because it's nothing new to them, also it fails to define who you really are. So it is critically important to create more uniqueness into your identity that you create something of your own, share your own thoughts, and express your own ideas into the Twitter world.
6. Powerful Tweets
Now that you have made quite an identity for yourself; consider some of the most effective ways to make your tweets and there are three types of tweets you can make that attract a lot of attention and subsequent followers.
#1 Question tweets: specifically think of your audience and what they care about, then just ask a question, don't over hashtag it, keep it simple, aesthetic and make it easy to respond.
#2 Retweetable tweets: thinking of the audience you have chosen what is the fresh perspective you can give to them. How do you speak on behalf of that group of people to say something that matters enough that people want to share it with their friends and followers.
#3 Personal Tweets: Sharing about your life and sharing what's going on behind the scenes and letting your audience know about it is a great way to get more interaction with the audience and more followers as well.
7. Quality of Content
A lot of traditional content creators or digital marketers like to think that Twitter is basically a spam system. The more tweets that you create the more likely people are gonna find you, but that is not the case always. Twitter (most importantly people) will more likely take you as a robotic system and ignore your future tweets. This one may seem obvious but it is an important one. It used to be on Twitter where if you keep posting more and more information, eventually your followers, your fans, will like your content.
Now Twitter has updated its algorithm in which if you post content and your fans barely engage, the next time you post content, they will show it to a lot fewer people. In other words, you need to post more quality information to bring up the number of fans that continually engage with your content so that way when you keep posting more people are going to see your content.
8. Engage with other brands
Engage with other brands and influencers within your niche, and listen to these influencers. Look at their profiles. See what people are liking there. Notice what their audience eats up. Find what their audience hates. That should give you some ideas. You also want to chime in on their page because that will also help get people back to your page, which should get you, followers, as well. You also want to engage with the influencers on these pages, because it creates a higher chance that they'll come to your page and engage as well. And in Twitter's algorithm what we've seen, when popular people engage, like comment, it actually creates a whole network effect where way more people see it versus someone who has very few followers or fans.
9. Keeps Tweets precise and simple
No one on social media will read massive blocks of text. They simply have a lot more to see from their friends and family. Long posts from brands and pages are not going to be at the top of their preference. Twitter is made in such a way that a person goes through multiple feeds per minute. So there is only an opportunity of a few seconds to catch the mind of the readers with sparkling content. Various studies suggest that most posts that get a great number of likes are those which are hardly 10-20 words long. Long story short, you should always try to keep your post precise and short.
10. Follow the metrics
You need to have some knowledge and practice to work on these above tactics and mastering them will take some time. But you should always analyze your posts to see which kinds of tweets did the best.
What you can do is, at the end of the month or week watch how your posts performed. You can write down the data if you like, try to catch a pattern that is present in all the posts that did comparatively well. Then recreate those kinds of tweets or understand the essence of those tweets, for which reason it did good, then recreate it.
11. Twitter SEO
Every day thousands of searches are made on Twitter by users who want to discover certain topics or find out what's trending. Several hundred similar posts also appear on an everyday basis so finding your particular profile is not easy for people. So a well-optimized profile name is going to help here. First, add a keyword to your username that people tend to search for more. For example, if you are a tech-loving guy Alex Jones, instead of keeping usernames like jonesalex98, or alexjones1998, try TechAlex or TechfromAlex. This way when a random user searches for the keyword "Tech" your name holds a high probability to come top or near the top on the list.
12. Have your Photos Themed
So, when you are interacting with the community, people will start noticing your name, checking your account, and the content you are posting… give them something they find interesting and attractive. Having a theme for your account help the audience to relate with you easily and this is a great way to get people to discover you and potentially get more followers.
But what theme should you choose for your account? Find a theme that best defines you, add certain aspects in your photos and videos which are pretty similar in each of your posts. You can choose a certain consistency, like genre/niche consistency, composition consistency, or color consistency. For me, it's a lot about nature photography and wildlife discoveries. So, find what are you passionate about and try to stick to that particular consistency.
13. Stay Consistent
You don't want to bother your fans as a brand on Twitter but you wouldn't want to make them appear ghosted either. A content calendar is a perfect tool to help you schedule the number of posts needed to hold the interest of the public, without compromising consistency. But we consider using a social media scheduling app that lets you plan Twitter updates instead of dropping it to share twice a day. By scheduling out a few hours a week to arrange your content, you can save time and spend the rest of your day relaxing and enjoying as Twitter loves to roll in. (Or, you know, do something else that's on this list and run your business.)
14. Running an Event
Contests are a great way to reach your audience and reward them for participating in your content. Reach a whole new pool of followers. If you have something to give away then you can run a contest. However, stay clear to the audience about when the contest ends, how to enter, the rules of the game, etc. This makes your contest trustworthy and people will more likely engage themselves in the game.
You can set simple rules to enter like asking the audience to like the post, tag two friends in comments, follow you, etc, or include a particular @ you created. Be wise about the giveaway gifts. Not everyone likes to win an iPad. But be universal and choose items like Amazon/ Google Play gift cards or a holiday coupon. Working this way will make your account more reachable to people. Who doesn't know you and subsequently gets a huge number of followers and likes.
15. Promote your Posts
Though not quite as stringent as Facebook, Twitter can be difficult for marketers trying to organically expand their presence. Using Twitter's Advertising program to advertise your content lets you reach out to users who don't already follow you. It is a powerful targeting tool (the same as the Facebook Advertising platform). This allows you to pick the users who will see your advertising with precision.
16. Figure out the Likes of your Audience
Did you think why some of your posts are not liked that much while some got an enormous amount of likes? Is it because of certain aspects that are liked more by your followers? Take out some of your time to go back to your previous photos. Analyze which of them got the most likes and which are got less. Which of them are more relatable to your audience and the reason behind them. Once you know the likes of your audience it is only a matter of time to get a huge number of more followers.
17. Link Twitter to your other Social media Accounts
If you have followers on other platforms then you might already be considering they are following you on all the platforms including Twitter, but this isn't always true. Let's say you have a large number of subscribers on YouTube but it's considerably short when it comes to Twitter. So you need to drive your followers to all the platforms you are present on, and let me tell you a secret, your followers actually love to follow you on all the platforms if you produce sensible content.
Leave a short post on Facebook, Youtube, or Instagram to remind them to follow you on Twitter and this will subsequently bring you a whole lot more followers than what you have now.
18. Post photos of your users and customers
Posting pictures of your clients and followers is a perfect way to have a more personal relationship with the people who make the company as popular as it is. These make the posts not only more authentic, but they are often more entertaining-meaning more likes and followers.
19. Approach for Collaboration
You've probably seen a lot of influencers, bloggers, or even some of your friends you follow posting ads with collaborating with a company. This is a great way to make some money and genuinely get more followers who are interested in those particular products or services offered by those companies. Collaborating is fun, try it with Twitter users who are already more popular than you and this will dramatically boost the followers you were looking for. Find creative ways, maybe work on a new project with a fellow Twitterati user to experiment with Twitter follower boosting.
20. Purchasing Followers
So using these ways you can easily get more followers for Twitter, maybe it's a matter of months you start noticing an increased amount of likes on your tweets. But like everything else, there is a drawback to this also. It will take a lot of time and effort for you to master all these methods; which is not preferable for a lot of people. This is why to cut the time short most of the brands and businesses rely on purchasing some followers from outside providers to get the required head start.
This is why most people choose to buy Twitter followers. Purchasing followers is an ideal shortcut to increase your social proof and gain more engagement naturally. However, it is quite risky if you don't know if the place you're buying from is safe. To make the task easy for you, we tested the well-known websites that offer these services. We took our time to thoroughly analyze fetch the accurate result of the quality, consistency, and customer support provided by each company. We did the research for you and came up with the four websites that can be relied upon so that you don't need to spend any more time deciding which one to go with. From these listed websites, apart from Twitter followers, you can buy comments, likes, video views for your Twitter profile as well.
Best sites to buy Twitter followers: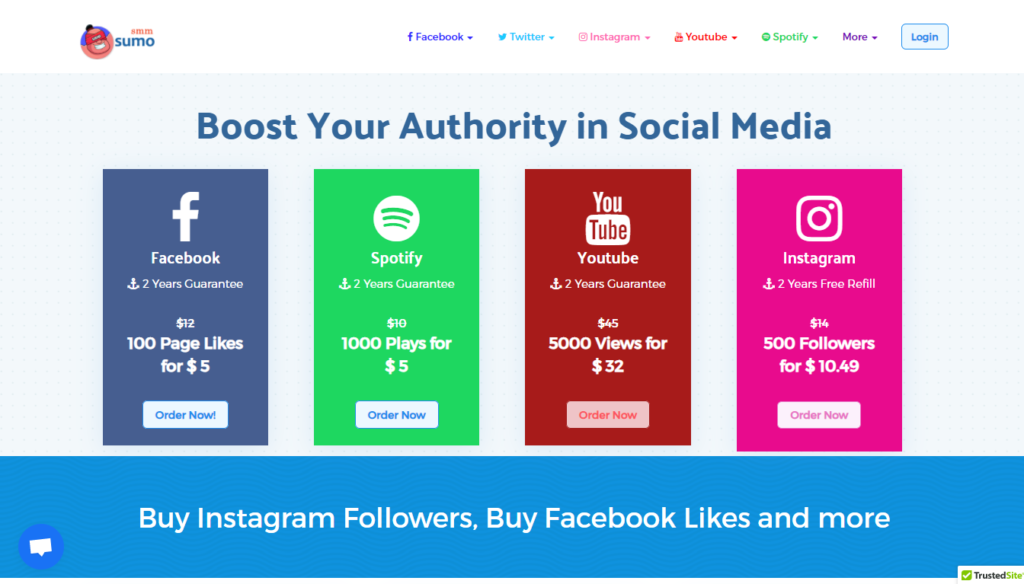 SMMSumo has established itself as a well-known Twitter Engagement Provider. They also provide promotional services for Facebook, Instagram, YouTube, Spotify, and SoundCloud. SMMSumo offers a wide range of services for Twitter which includes Twitter Likes, retweets, Views, Followers, and Impressions. We purchased 100 Followers for $15 which was quite impressive! The delivery was completed within 22 hours after confirming our purchase. The best part of it, each and every following they delivered came from real and active Twitter users only, which makes them a very reliable provider. SMMSumo even has 24/7 customer support, where you can ask any initial questions you may have, as well as get help with technical issues if these arise at any point. Overall, we recommend SMMSumo as the best website to buy Twitter followers.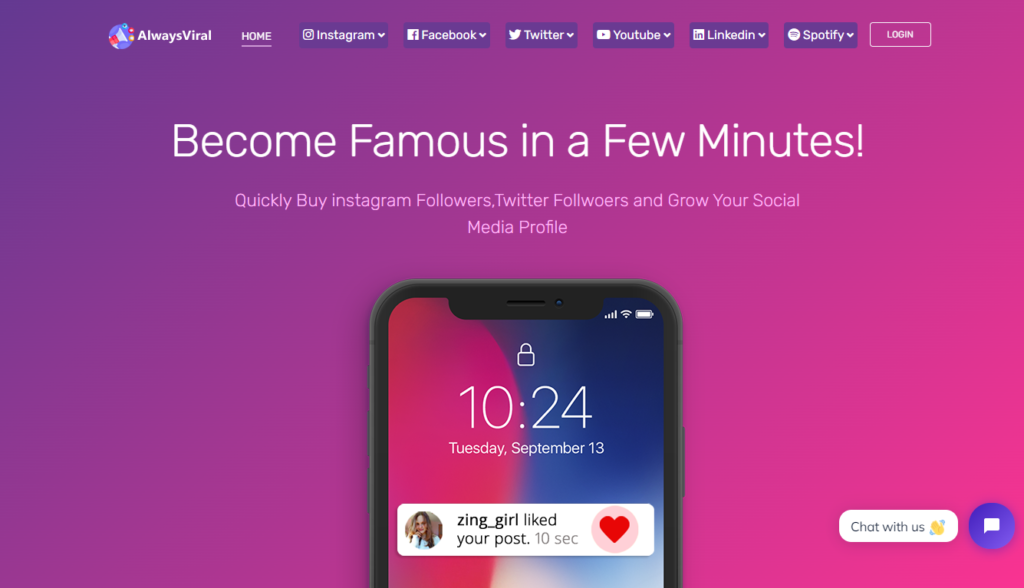 AlwaysViral is famous for its slogan, "Go Viral with AlwaysViral!", which is quite true when it comes to the tempting features they provide for almost all social media platforms. They provide real followers at affordable pricing and a quick turnaround time. We purchased 100 Twitter Followers from them which was processed within 18 hours approx. Though we had some problems regarding payments, we eventually figured it out by contacting their 24/7 professional customer support. They even said not to worry, as they don't ask for your personal credentials and provide 2 years free refill guarantee for any package you choose to buy from them. If you are looking for an authentic Twitter follower brand with solid customer protection, and a solid reputation in the industry, AlwaysViral is the ideal place.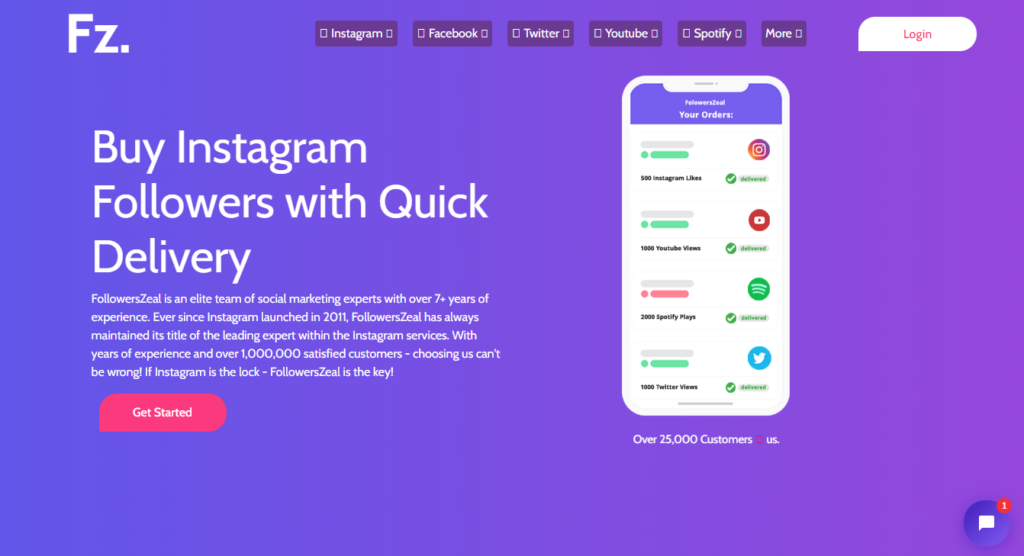 FollowersZeal is an authentic provider for all types of Twitter promotions. They have been in the social media boosting service for quite a while. They know how to gear your Twitter profiles toward growth.
FollowersZeal is one of the few websites to provide 100% real and active followers and likes for almost all popular social media websites like Facebook, Instagram, Twitter, YouTube, Spotify, and LinkedIn. With FollowersZeal, it's super easy to get started – all you need to do is to choose your preferred package, sign in to their dashboard and make payment.
We ordered 200 Twitter Followers to test them out. The followers came from accounts from which most of them seemed to be active. And have profiles that are quite old. These guys have been in the game for a while now, so they know what their clients need. Moreover, they provide an additional 2-year free refill guarantee. It makes them a reliable provider in case you happen to have an issue with the delivery. Anyone looking for a fast, authentic, and safest way to buy high-quality Twitter Followers can definitely find it at FollowersZeal.com.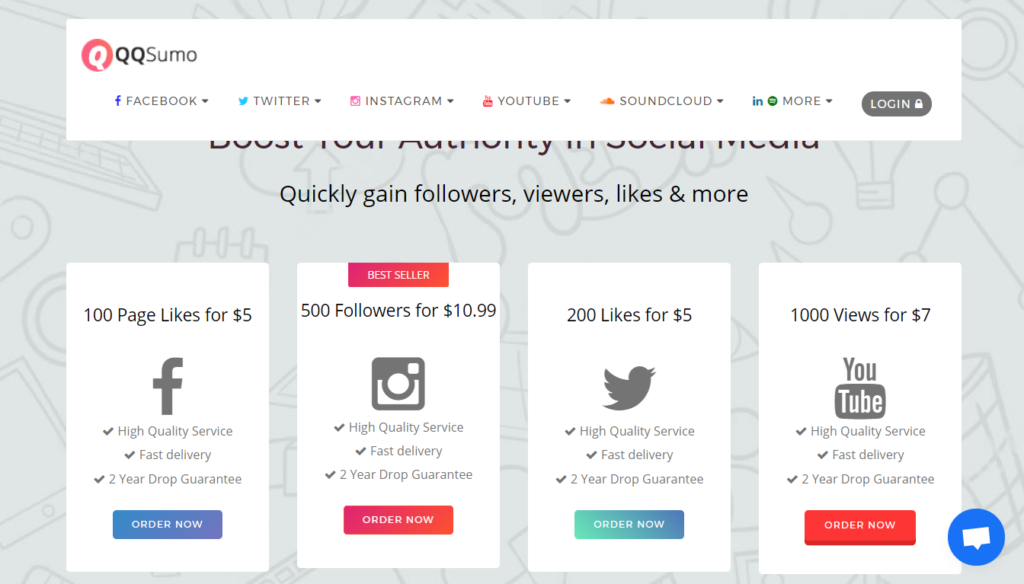 QQSumo provides genuine engagement for almost all types of popular social networks like Facebook, Twitter, Instagram, YouTube, SoundCloud, and Spotify. This can be surprising for some people, but they do what they say. We observed that the packages offered by QQSumo are quite affordable and available for every range of services. All you need to do is to select the package of your choice and sign up through their dashboard. The best thing about QQSumo is that its support team is available 24/7. Meaning you can get in touch anytime you want to. We purchased 200 Followers from them for their service. The service was delivered within 12 hours of purchasing and was delivered organically. We talked with their customer support, and they thanked us for purchasing their service. They offer a 100% money-back guarantee, so if they don't deliver your order, you will get a refund.